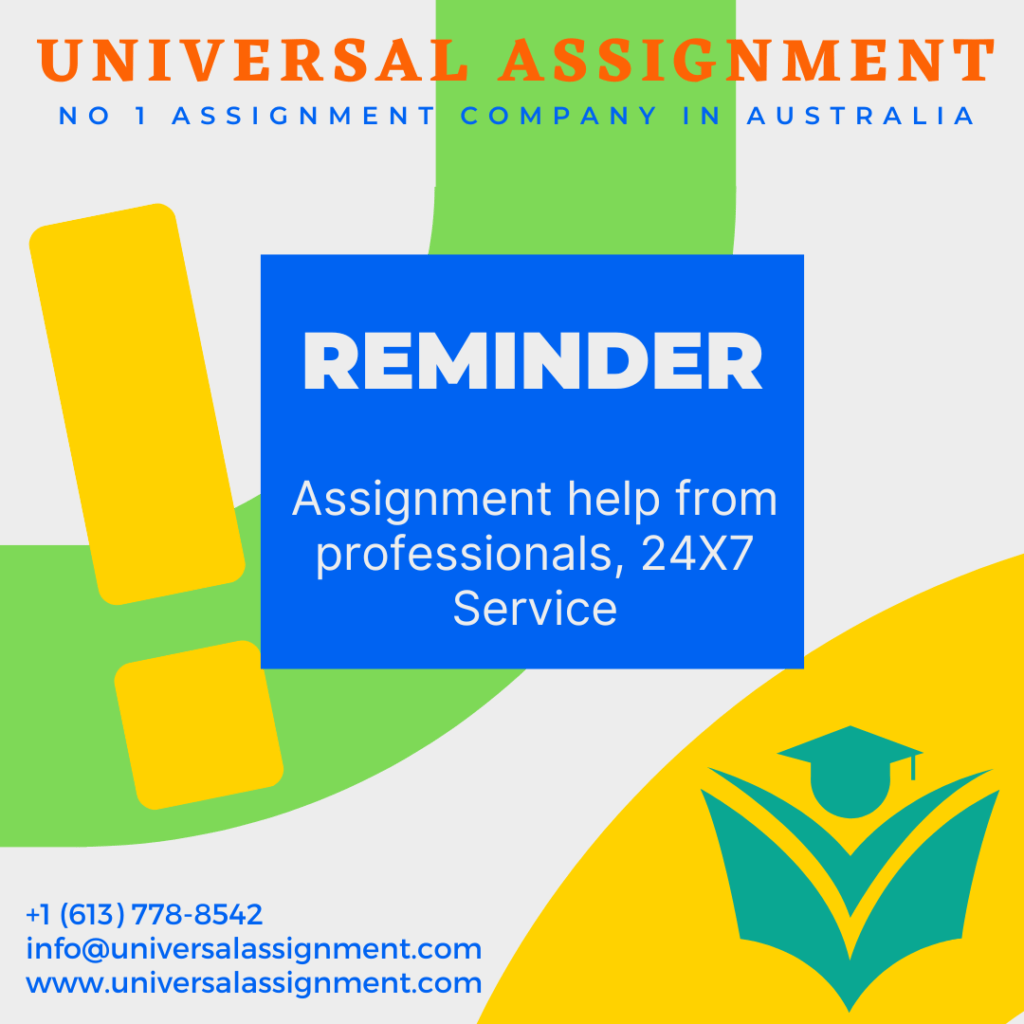 BUSN3017: Corporate Social Responsibility, Accountability and Reporting Shareholder Proposal (Task 1) Assessment Requirements
Weighting: 25%
DueDate:1pm,Monday24thAugust2020
This assessment task has been designed to develop your understanding of the role of socially responsible investors as a key stakeholder of corporations. It will also help you critically apply relevant theories and concepts of CSR to make a persuasive case for a particular course of action that is important to you and society.
Required: You are required to prepare a shareholder proposal to a publicly-listed corporation of your choice, requesting that that the corporation undertake a course of action on a specific topic of your choice (e.g. climate change, human rights, pollution, discrimination, etc.) at the corporation's next annual general meeting in 2021. It is up to you to choose the company. It can be any company in the world.
However, it must be one who has been reported in the media for infringing one or more of its corporate responsibilities in the past four years. Therefore, the subject matter of your proposal will flow from these media report/s.
This assessment involves two items completed individually and submitted through Wattle.
Shareholder proposal (15%)
Your proposal must cover the following:
A short shareholder resolution outlining the specific actions you desire the corporation to undertake (200 word limit). You should base this on the following guidance issued by a UK shareholder activist group (ShareAction 2019):

The resolution should focus on a single issue,
Direct the company to do something which is achievable within a reasonable timeframe,
Directs the company to do something which is not overly burdensome or costly;
Be based on the protection of shareholder value over the long-term.

A supporting statement clearly setting out the reasons why it should implement your proposed course of action (500 word limit). Your task here is to build a convincing argument for other shareholders to encourage them to support your proposal. To achieve this, you must marshal as many research/fact-based supporting statements as possible within the word limit while ensuring your statement is understandable and compelling. It is important that you properly reference/cite evidence for these statements. You may like to consider the following to identify evidence to support your statement (if appropriate to your issue/company):

Are there any pending or adopted regulations on this issue in the jurisdiction your company operates in?
What evidence is there of customer or public interest in this issue?
What are the economic or financial implications of this issue for your company (and its shareholders)?
How have industry peers/competitors responded to this issue?
What other theoretical or empirical issues from BUSN3017 are relevant to this issue?

A Reference List containing careful and thorough references for all of the sources and evidence you found to support your resolution. Your reference list (and the footnotes references) are excluded from the word counts of section (i) and (ii) above.
Consistent with the approach of shareholder activists, you are to use the Chicago (i.e. footnote) style of referencing in this assessment task. A guide from ANU on this referencing style is available here: https://www.anu.edu.au/students/academic-skills/academic-integrity/referencing/chicago-manual-of-style
The structure of this task is based on the format used by shareholder activists in Australia, the UK, the USA and other jurisdictions. Therefore, you may find the following resources on shareholder resolutions useful in preparing your own:
Market Forces [Australia] (2020) Shareholder Resolution News, available at: https://www.marketforces.org.au/tag/shareholder-resolution/
Australian Centre for Corporate Responsibility [Australia] (2020) Australian ESG ShareholderResolutionshttps://www.accr.org.au/research/australian-esg-resolution-voting-history
ShareAction [UK] (2019) UK Guide to Shareholder Resolutions, available at: https://shareaction.org/resources/uk-guide-to-shareholder-resolutions/
Interfaith Center on Corporate Responsibility [USA] (2019) How to File a Resolution, available at: https://www.iccr.org/sites/default/files/page_attachments/ICCR-HowToFileAResolution.pdf
An actual example of two shareholder proposals from the 2020 Rio Tinto AGM from activist group Market Forces is uploaded onto Wattle.
Video to shareholders (10%)
You are also asked to prepare a 2-3 minute video to support your written proposal. You should imagine that this video is directed at other shareholders to convince them to support your shareholder resolution. Therefore, you should try to present a summarised version of your shareholder proposal, but in a compelling and interesting visual format (try to stand out from the crowd!). Try to ensure your video has a clear central message, and that it demonstrates your oral communication and presentation skills.
How you prepare your video is up to you. You do not have to show your face on screen. A basic option is to make a Zoom recording of you speaking to the camera, or you may choose to record your voice as audio over other visuals (e.g. slides) using 'Share Screen' on Zoom. The content of the video is also up to you: you do not have to use the exact wording of your written proposal. Creativity and imagination is very welcome, remember that your task is to interest and engage other shareholders (e.g. cartoons, drawings, action shots, images, video editing, may help your proposal stand out etc, etc). This component of the assessment will be assessed on the rubric below.
Submission: These two items will need to be submitted separately before the due date. The part (a) Shareholder Proposal will be submitted as a written document through Turnitin. The part (b) video will submitted separately as a Wattle Assignment. We suggest you submit your video in mp4 format, however Wattle will accept any of the following file types if you are unable to use mp4: 3gp .asf .avi .dif
.dv .f4v .flv .m4v .mov .movie .mp4 .mpe .mpeg .mpg .ogv .qt .rmvb .rv .swf .swfl .webm .wmv . Themaximum file size in 2GB. Please allow sufficient time to upload your files prior to the due date, especially if you have a slow internet connection.
Academic integrity is taken seriously at ANU. Ensure everything you submit is your own work.You can use the ANU Academic Skills Turnitin Practice Site to check your work prior to submission. Also, ensure you check the Turnitin Originality Report function to ensure you have correctly referenced the work of others. Apparent instances of plagiarism or academic misconduct will be reported and dealt with according to ANUAcademicMisconductPolicy and Processes.
Late submission of assessment tasks without an approved extension are penalised at the rate of 5% of the possible marks available per working day or part thereof. Late submission of assessment tasks is not accepted after 10 working days after the due date, or on or after the date specified in the course outline for the return of the assessment item (1pm,04 September2020).

Get expert help for MIS605 Systems Analysis and Design and many more. 24X7 help, plag free solution. Order online now!